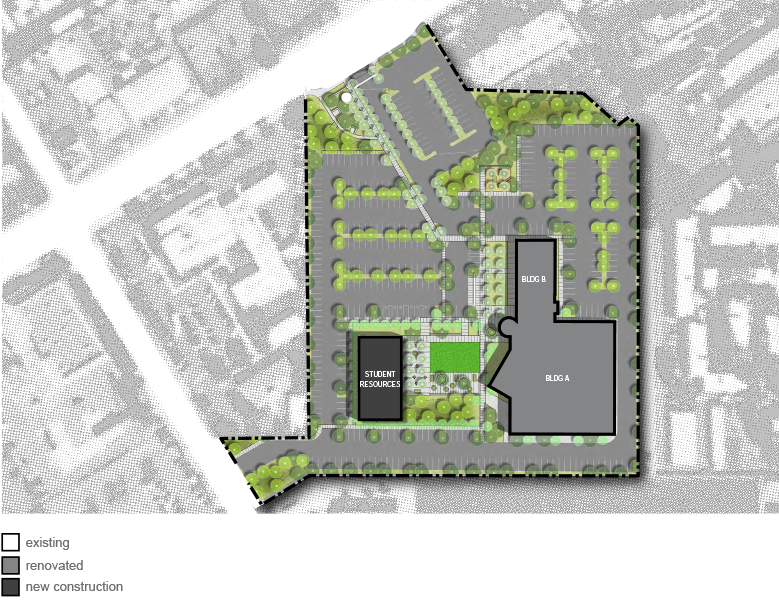 The Facilities Master Plan for the CLC looks to create a cohesive campus environment that is accomplished through the creation of a centralized campus quad that provides the physical elements that comprise a college campus. Active outdoor areas will knit together the instructional spaces with the new student-centered building. The quad will allow students to stay on campus for longer periods of time by providing much needed study and socialization spaces and improving the campus aesthetics.
Approved and planned projects are listed below. As additional projects are approved, scope defined, and budgets established, they will be added here. (List updated August 2022)
*District-funded project
CONSTRUCTION SCHEDULE KEY
Spring: March 1 - May 31
Summer: June 1 - August 31
Fall: September 1 - November 30
Winter: December 1 - February 28
CAMPUS PROJECT MANAGEMENT TEAM
Project Managers: Derrick Watkins, Element Consulting, and Louis McGowan, Kitchell Capital Expenditures Manager (CEM)
Project Engineers: Erin McGowan and Stephanie Klapperich, Kitchell CEM, and Kenan Alhalabi, Element Consulting
---
Buildings 100 & 200 Renovation
(Formerly known as Buildings A and B)
Project Delivery Method: Design-Bid-Build
Phase: Completed
Project Budget: $12.7 million
Construction Duration: January - September 2021
Funding Source: Measure MM
The project included renovation of the spaces where Student Services was previously located. Academic Services, the library, faculty offices, and the California Adult Education program were all significantly remodeled and revised for efficiency and space needs. The remaining portion of the buildings is approximately 29,500 sf, consisting primarily of classroom space and it underwent a lighter renovation focusing on needed system upgrades. The aging skylight over the lobby was also replaced.
Architect: SGPA Architecture & Planning
Commissioning Services: Align Builders
Mechanical, Electrical & Engineer: Glumac
Structural Engineer: Wiseman & Rohy
HVAC Controls: SC Engineers
Fire Protection Engineer: Protection Design and Consulting
Access Controls: Exante 360
Inspector of Record: Construction Inspection Services (CIS)
---
New Student Services Building
(Formerly Student Resources Building)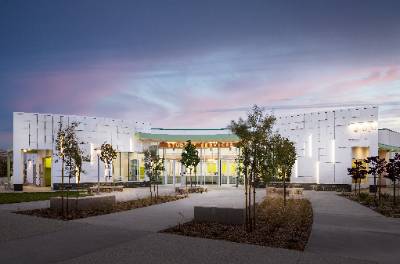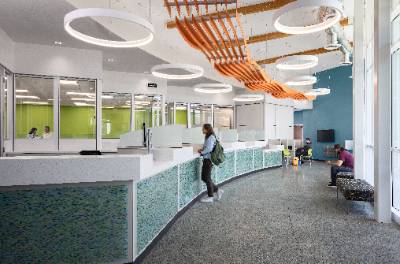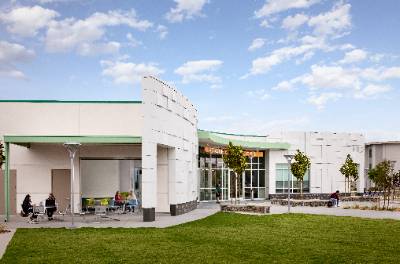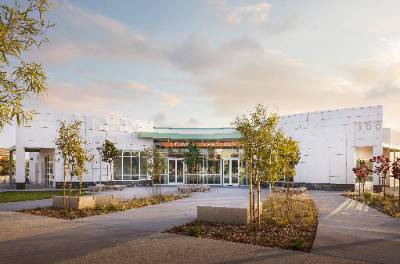 Project Delivery Method: Design-Bid-Build
Phase: Completed
Project Budget: $12.3 million
Construction Duration: April 2018 – October 2021
Funding Source: Measure MM
This new building has consolidated student study and resource spaces, along with staff space, into a single dynamic environment to promote student and staff interaction and collaboration. A new quad has been constructed between the Student Services building and the existing 100 & 200 buildings and much of the parking lot is being renovated and expanded.
Architect: Lord Architecture, Inc.
General Contractor: Align Builders
Landscape Architect: The Lightfoot Planning Group
Civil Engineer: Snipes-Dye Associates
Electrical Engineer: Johnson Consulting Engineers
Mechanical & Plumbing Engineer: ALM Consulting Engineers
Structural Engineer: OGonzalez Inc. Engineers
Inspector of Record: Consulting & Inspection Services
Interior Design: Hasenbeck Interior Design
Energy Consultant: STOK
---
New Monument Sign and Entryway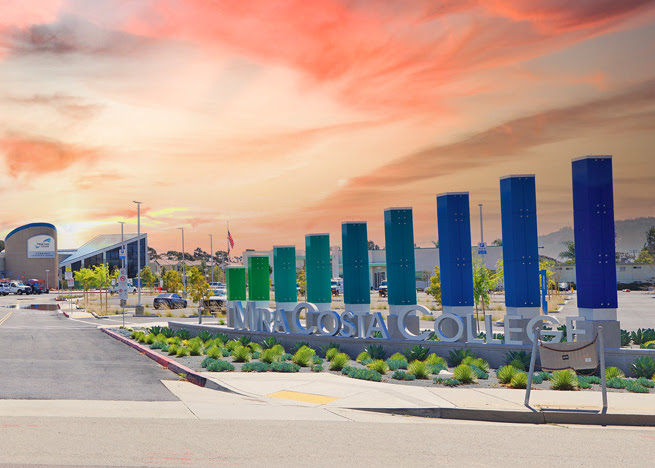 Project Delivery Method: Design-Bid-Build
Phase: Completed
Project Budget: $1.1 million
Construction Duration: April 2019 - January 2021
Funding Source: Measure MM
The new monument sign and entry project has created an iconic entry to the Community Learning Center Campus intended to provide a clear sense of arrival and improve student and visitor wayfinding on campus.
Inspector of Record: Alliance Engineering
Architect: WLC Architects
General Contractor: Conan Construction
Civil Engineer/Landscape Architect: O'Dell Engineering
Geotechnical Engineer: SMS Geotechnical Solutions, Inc.
Structural Engineer: SDSE Structural Engineers
Electrical Engineer: IMEG Corp.
Inspector of Record: Alliance Engineering
---
Parking Lot Renovation and Building C Demo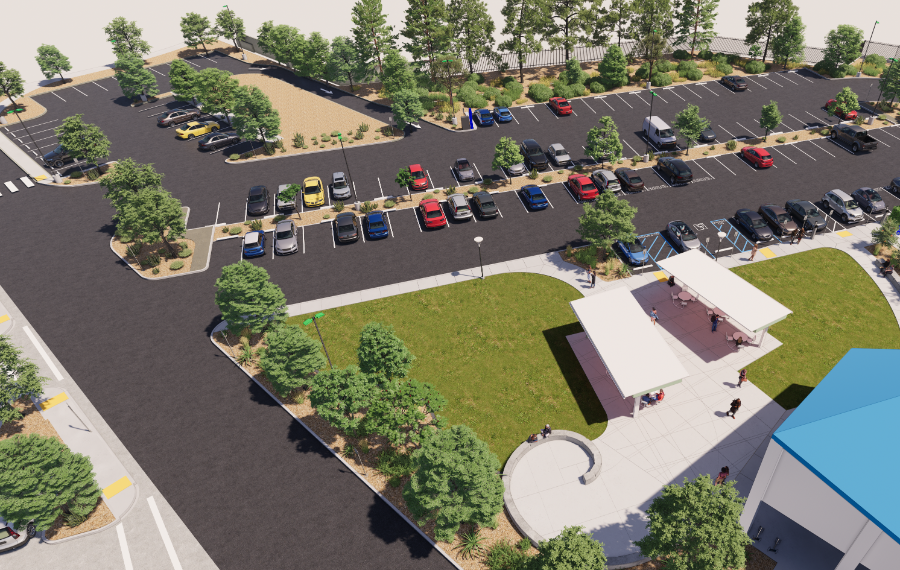 Project Delivery Method: TBD
Phase: Design/Future
Project Budget: Pending
Construction Duration: Pending
Funding Source: Measure MM
This is for the planning and design phase of a site project for the CLC campus to reconfigure the remaining unrenovated parking and site areas to create an efficient traffic flow and meet the overall parking stall counts for the campus. Landscape and bioswales will be used to improve the campus aesthetic and mitigate storm water issues. In addition, Building C will be demolished as the campus looks to remove a temporary facility built in 2002 that currently is poorly organized and under-utilized. Design was completed and construction efforts have moved to a future phase.