What is the Food Pantry?
The food pantry provides food assistance and referrals to students experiencing food insecurity; any student who is currently enrolled at MiraCosta College qualifies for the support. The support consists of either a snack or entréeitems. Typical food pantry items consist of canned goods (pasta, vegetables, beans, tuna, soups, and fruit), granola bars, crackers, and snack-like items. The program provides immediate, short-term relief and offers referrals for CalFresh and additional community resources for ongoing assistance with food insecurity. More detailed information about the Food Pantry hours and location, read below under "Frequently Asked Questions (FAQ)."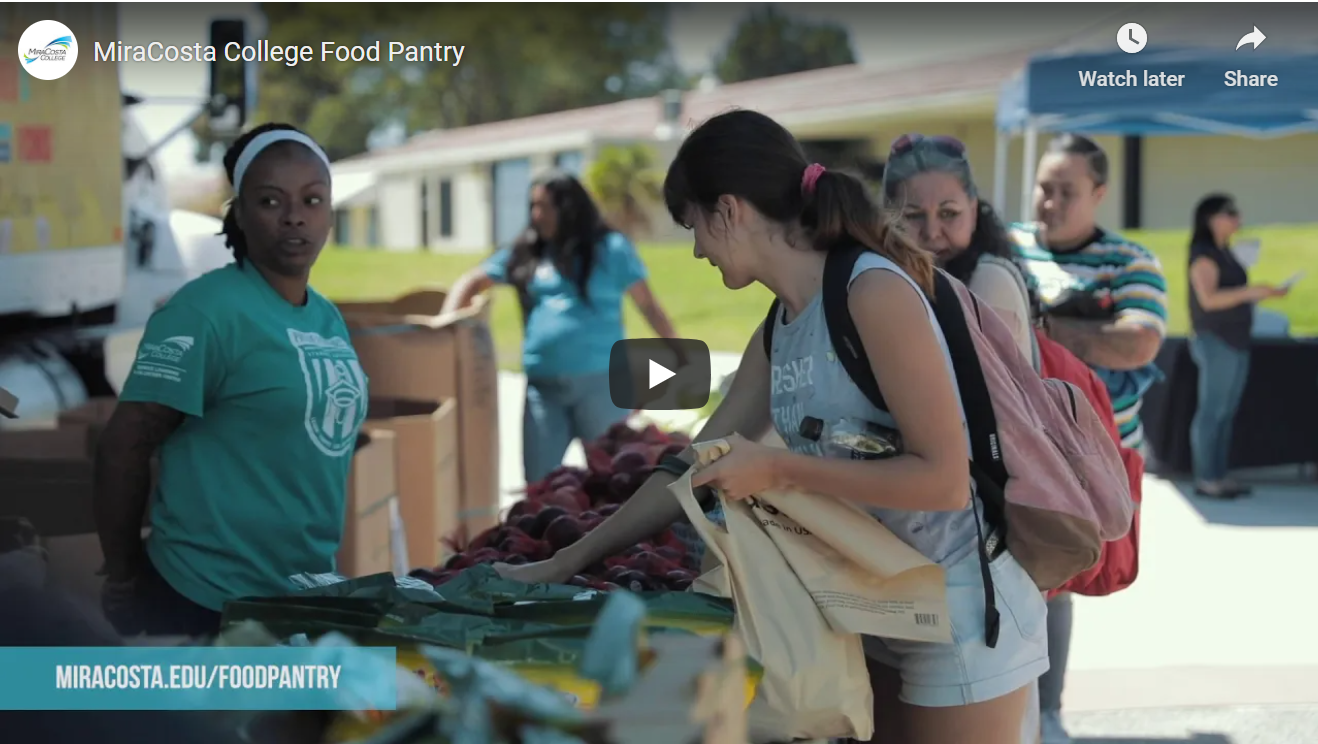 All services are confidential. Food Pantry services are also available through the following Student Services offices:
Campus Assessment, Resources, & Education (CARE)
Oceanside Campus, Building 3400, 760.757.2121 x6480 or x2135
Service Learning & Volunteer Center
Oceanside Campus, Building 3300, 760.795.6616
Student Life & Leadership (SLL)
Oceanside Campus Student Center, Building 3400, 760.795.6890
San Elijo Campus Student Center, Building 900, 760.944.4449 x7782
Community Learning Center, 760.795.8710
Farmer's Markets for You
Please note: June 14th and June 16th Farmer's Markets are CANCELLED/ No habra Distribución de Comida Gratis el 14 y 16 de Junio.

In addition to the campus Food Pantry, MiraCosta College offers a free monthly food distribution program known as " for You." This is a campus-wide collaboration with the San Diego Food Bank and Feeding San Diego to provide access to FREE produce and dry goods. To access this service, students need their Spartan Pass or SURF ID number. The schedule for Spring 2021 will generally be as follows: 2nd Monday of each month at the Oceanside Campus (starting in February in OC-3C) from 1:30pm-2:30pm and the 3rd Wednesday of each month at the Community Learning Center (starting in February in CLC-1) from 2:30pm-3:30pm. Further details will be sent to all currently enrolled students via a campus-wide email leading up to the event. This is a FREE event!
CalFresh Resources
CalFresh (federally known as the Supplemental Nutrition Assistance Program) provides monthly food benefits to income-qualifying families and students. Eligible individuals receive free money for food. Students who are interested in finding out more information about this resource can contact the CARE Program. The CARE Team will identify a designated staff to assist students with application intake or a referral to a community provider who can provide application assistance. Students can also apply directly at www.getcalfresh.org.
In order to receive application assistance from the CARE Team, please email care@miracosta.edu with your availability.
Local Food Distributions and Food Resources
The San Diego Food Bank and Feeding San Diego provide a wide variety of food resources and local food distributions in a community near you. Food resources include programs like a client choice pantry, emergency food assistance, congregate meals, and more. To find out more information on how to access these resources, visit The North County Food Bank- Programs or Feeding San Diego- Food Distributions.
Individuals may also dial 2-1-1 to speak with a well-trained and live operator to be assisted with finding nearby food resources.
How You Can Get Involved
Make a financial contribution.The MiraCosta Food Pantry and Farmer's Market is a campus-wide collaboration and is sustained through Hunger Free Campus Funds and the financial contributions from community, faculty, staff, and students. Financial contributions can be coordinated through the MiraCosta College Foundation Office: 760.795.6645.
Donate new or gently used reusable grocery bags.We are always seeking reusable bags to distribute at Farmer's Market events to students. Reusable bags can be dropped off at the Service Learning & Volunteer Center - Oceanside Campus, Building 3300, 760.795.6616.
Volunteer your time.Students, faculty, and staff are encouraged to volunteer their time assisting at our farmers market events. Volunteers are needed to set-up, sort produce, bag produce, organize food items, and provide food to students. If interested in volunteering, please complete our volunteer form and/or contact us with any questions at care@miracosta.edu. For larger groups or programs that would like to volunteer, please contact us about signing up via care@miracosta.edu.
Food Pantry Frequently Asked Questions (FAQ):
1. Who do we Serve?
At the MiraCosta College Food Panty, we aim to serve all enrolled credit and non-credit students, including those that attend early morning classes and/or evening classes. We do this by providing on-campus access to food resources at all three of our campuses with the main Food Pantry operating at our Oceanside Campus in Room 3306. In addition to our efforts to support students with quick snacks, sack lunches, fresh fruit and/or entrees (as supplies allow), we host on-campus Farmer's Markets at our MiraCosta College - Oceanside Campus (1 Barnard Drive, Oceanside, 92056) and San Elijo Campus (3333 Manchester Avenue, Cardiff, 92007) up to three times a month.
2. How to Access the Food Pantry (when campus resumes in person services)
Students can access the food pantry at various times throughout the day, depending on the campus. Upon entering the Food Pantry or accessing food from the staff at the Student Life & Leadership Front Desk or the Community Learning Center Front Desk, students will check-in using their Spartan Pass Number and by answering a couple questions on a GoogleForm which is preloaded on the Food Pantry iPads (at the entrance or provided to a student by a staff member). Please see the below list of hours to access.
Hours (when campus resumes in person services)
Oceanside Campus: Service Learning/Food Pantry, Building 3300, Room 3306: Monday - Thursday8am - 4:30pm, Friday 8am - 3pm
Oceanside Campus: Student Life, Building 3400, Front Desk: Monday - Thursday 8:00am - 9pm, Friday 8am - 3pm
Community Learning Center Campus: Building A, Front Desk: Monday - Thursday 8am - 7pm, Friday 8am - 1:30pm, Saturday 8am - 12pm
San Elijo Campus: Student Life, Building 900, Student Life - Room 930: Monday - Thursday 9am - 4:30pm, Friday 9am - 3pm
3. Why is some food in the Food Pantry expired?
Although the date listed on an item you have received from the Food Pantry may be past the printed "sell-by" or "best if used by (or before)" date, this is for reference when buying from a store rather than a date where consumption is no longer safe. Some food items in our pantry come donated from our partners such as San Diego Food Bank and Feeding San Diego who receive their supply directly from grocery stores and other vendors. Please read the Feeding America San Diego Food Safety Education Fact Sheet for more details and information. For more information on food extended shelf life for expired food which can still be safe to distribute and consume, please see the information on how to Manage Expired Items which lists various food types in the categories of: aseptically-packaged products, baby food, bread products, canned foods, condiments, sauces, syrups, dairy products, and dry goods. Additionally, you can learn more about extended shelf life terminology on MiraCosta CARE Instagram Story.
4. What is the History of the Food Pantry
The food pantry was started by a service learning student/former Student Advocate, Cathy Robin. While she was enrolled in a Health/Nutrition class, she heard and noticed that students were hungry on campus. As an advocate she quickly turned her concern into action. She met with Dr. Carol Wilkinson, Service Learning Coordinator at the time, to discuss the issue and to find a solution. She remembered that at one of the Service Learning conferences they had recently attended, there was a college that had a food pantry. A committee was formed with various MiraCosta student services: Health, EOPS, Student Activities, and the Nutrition instructor. With the support of Dr. Robertson (Vice President of Student Services at the time) and various administrators, the MiraCosta Board of Trustees approved to have our very own MiraCosta Food Pantry- that was 11 years ago. Cathy Robin passed away on May 2016 but her spirit of advocacy and work to eradicate food insufficiency on our campus continues.
This pantry has been 100% sustained through the generous contributions of faculty, staff, students, and community members. In the spirit of service, classes have picked food insufficiency as topics of interest and as part of their service learning. They've raised awareness on campus and included food drives to benefit the MiraCosta Food Pantry. Every year the CARE team, Service Learning Staff & Student Advocates hold food drives and raise awareness on food insufficiency on campus, locally, and globally.