Honors Research Conferences
The Honors Program strongly believes that the experience of conference participation is one of the single-most beneficial activities of an academic career. The ability to present at research conferences is open to all MiraCosta College students, however some external conferences will require membership in the Honors Program. The Honors Program participates in five honors conferences, including our own OMNI each year. Conference presentation can fulfill the Honors Program PSLOs:
PSLO 1: At the conclusion of the Program, Honors students will have learned and applied discipline-specific research skills.
PSLO 2: At the conclusion of the Program, Honors students will be able to evaluate and apply their communication skills in pursuit of academic and career options.
PSLO 3: At the conclusion of the Program, Honors students, as global citizens, will understand the value of equity and diversity in solving problems.
What is the OMNI Research Showcase?
The OMNI Research Showcase is hosted by the Honors Program. OMNI provides opportunities in the Fall and Spring for students who are pursuing individual research, scholarly and creative projects to present those projects in a public forum. All projects can be presented in a poster session format or an oral presentation. All MiraCosta students who have completed research, scholarly and creative projects are eligible to participate.
The entire college is invited to attend. This is an opportunity to see MiraCosta students at their best.
During the COVID-19 Pandemic, we have experience the benefits of hybrid learning and conferences! We plan for the Fall 2022 OMNI to be a Hybrid model once more. We will share more details as we get closer!
Check out this instructional video for more information, and Presentation 1 & Presentation 2 for additional information on the benefits of presenting at conferences and submitting proposals.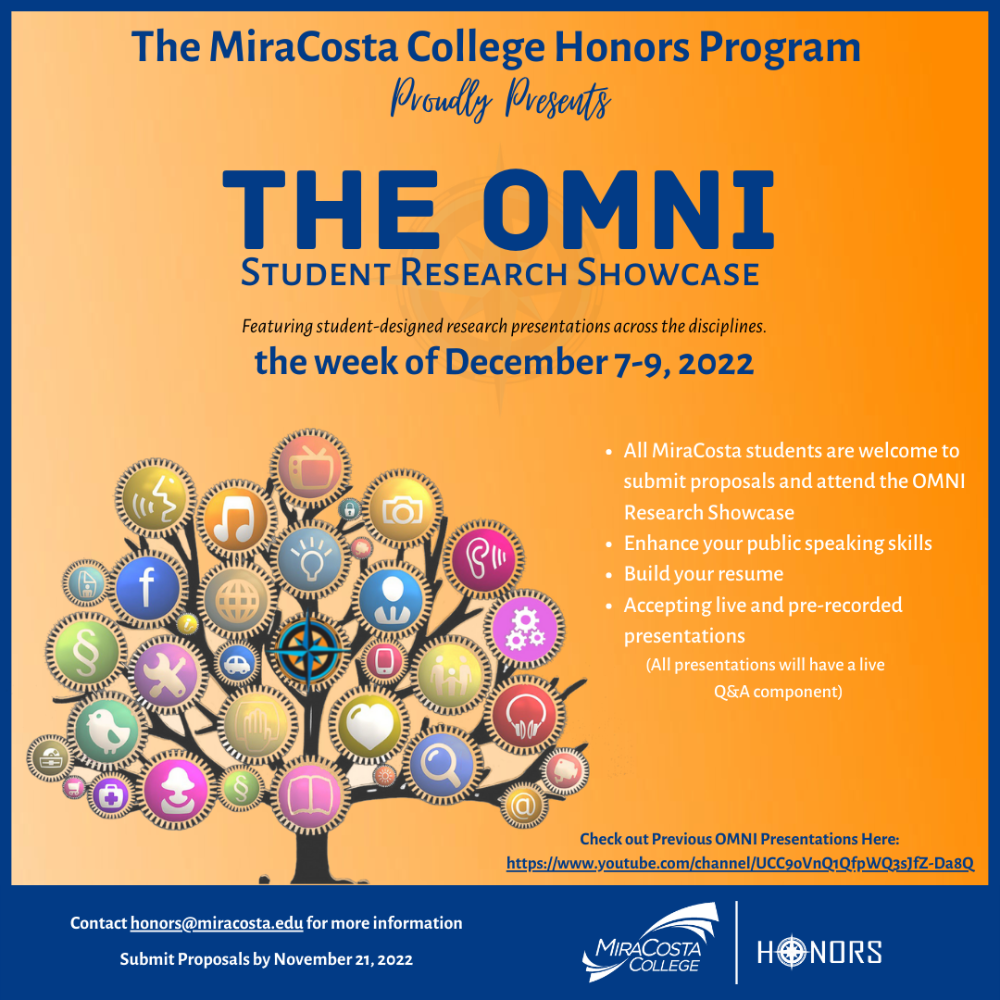 Fall 2022 OMNI Research Showcase
December 8 & 9, 2022

December 8 @9:00am-noon on Zoom
December 8 @1:00-4:00pm on the San Elijo Campus
December 9 @8:00am-4:00pm on the CLC Campus

Submit your proposal here by November 21, 2022.
Spring 2022 Program
Fall 2021 Program
Additional Information
Off-Campus Honors Research Conferences
Visit some conference websites to find more information on individual events: HTCC Irvine, SCURR, WRHC, Bay Honors. More information coming for the 2021-22 School Year soon.