Pentathlon Award winners (students who present at five or more research conferences) at the OMNI Showcase Spring 2018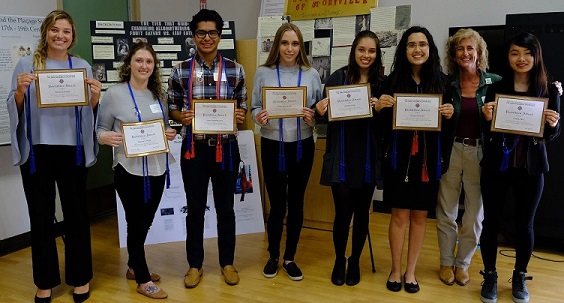 Thank you for your interest in the Honors Program
For the past 25 years, the Honors Program has been offering enriched academic coursework that is designed for any student interested in developing skills that will prepare you academically, socially and personally for college, career and life. The Honors Program encourages every student who enjoys learning in a supportive community to apply.
How do I join Honors?
We accept applications year round
There is no submission deadline
There are no additional fees to join the program
While we do not have a GPA requirement for entrance into the program, we ask for transcripts so we can make recommendations on your level of participation n the program.
What are the benefits of joining Honors?
Enriched learning opportunities outside the classroom
Campus and Culture visits to schools like UCLA, UCI, SDSU, USC and more
Present original research at academic Honors Conferences all over California
Smaller class sizes = more collaboration with your professors
Individualized Honors contract instruction
Access to dedicated transfer services
Honors Lounge on the Oceanside Campus where you can collaborate with other students (currently closed until COVD restrictions ease)
Recognition at graduation as a Certified Honors Student and a special celebration at the end of the year
Unique scholarship award opportunities
Transfer Partnerships through the Honors Transfer Council of California & UCLA Transfer Alliance Program
How will the experience of an honors class be different?
Honors classes are different, not necessarily harder. Topics covered are the same - the difference is in the teaching and learning experience. The materials may be covered at greater depth. In addition, students experience a more interactive learning environment, such as discussions, seminars, oral presentations, and in-class workshops. Emphasis is placed on written analysis, critical thinking, research, and collaborative learning.
Is it possible to take an honors class and not be a member of the Honors Program?
Yes! You may take honors classes without being a member of the program. If you decide to apply to the program after you have completed honors classes, they will be counted toward your completion requirements.
What other opportunities are available through the Honors Program?
While honors classes are the foundation of the Honors Program, there are plenty of other benefits for students who join. Honors students make up a special community that provides students a unique and valuable MiraCosta experience. Members of the Honors Program receive first priority to attend honors enrichment activities which extend learning beyond the classroom, such as campus visits, museums trips, and cultural events. Additionally, Honors Program members have access to dedicated transfer services offered by some public and private 4-year college and universities.
What recognition will honors students receive?
Students who complete Honors Program requirements will have the notation "Certified Honors Scholar" posted on their transcript. Honors students are also recognized at graduation and at the President's Luncheon, a special graduation and recognition ceremony for the Honors Community.