LGBTQIA+ Events
LGBTQIA+ Equity strives to bring cultural, social, and educational events that highlights and uplifts the diverse and valuable work of folks in the LGBTQIA+ community, from local leaders to prominent activists. At our events, we want to ensure that you enjoy yourself and your learnings while finding the tools to help you advocate for the LGBTQIA+ community. The goal of our programming is to center the community by highlighting the work, experience, and contributions of the LGBTQIA+ community.
If you have event ideas you'd like to share, or are interested in participating in the event planning process, email us at lgbtqia@miracosta.edu.
Spring 2022 Event Calendar
Justice and Queer liberation through the lens of Joy with Jordan Daniels
The work toward liberation can feel depleting. How do we find healthy ways to operate from joy rather than burnout? Our session with Jordan (he/him) will focus on approaching the work through a lens of joy!
Jordan Daniels identifies as a queer Afro-Jew Fatty creative content maker, journalist, and storyteller whose seeking liberation, equity, and justice. Jordan is also a MiraCosta alum who has frequently presented workshops and events for the MCC community.
Queer Ecology with miles Lewis
Wednesday, March 9th | 11:30 - 1 pm PST
A meditative workshop where we envision how our bodies, societies, and natural environment can coexist in peace, pleasure, and sustainability. Participants of all genders, sexualities, and beliefs are welcome.
Miles Lewis is a painter, art and environmental educator, and community organizer in the San Fernando Valley.
As an educator, his aim is to help students develop skills for making their perception more holistic, practical, and inventive. This applies just as much to drawing, painting, and composition, as it does to bodies, nature, and the material economy. His interest in queer ecology comes from the conviction that the successes of gay rights and sexual liberation suggest real pathways for a kinder and greener world.
Asexuality and Purity Culture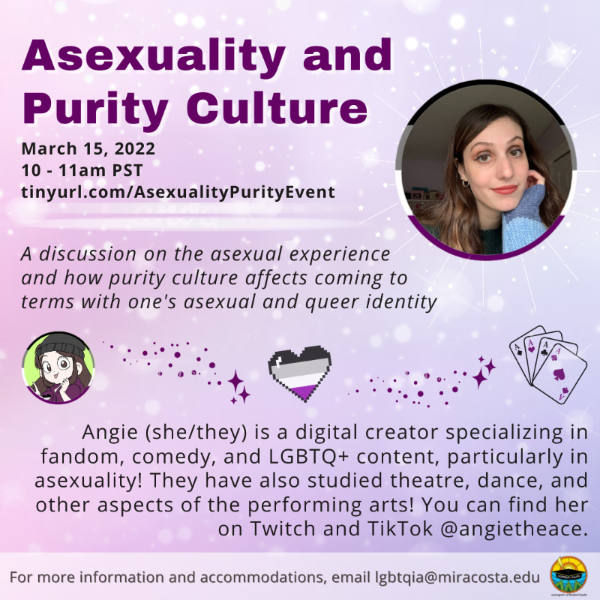 Tuesday, March 15th | 10 - 11am PST
A discussion on the asexual experience and how purity culture affects coming to terms with one's asexual and queer identity
Angie (she/they) is a digital creator specializing in fandom, comedy, and LGBTQ+ content, particularly in asexuality! They have also studied theatre, dance, and other aspects of the performing arts! You can find her on Twitch and TikTok @angietheace.
Prism Collective Game Night "Intentional Joy Time"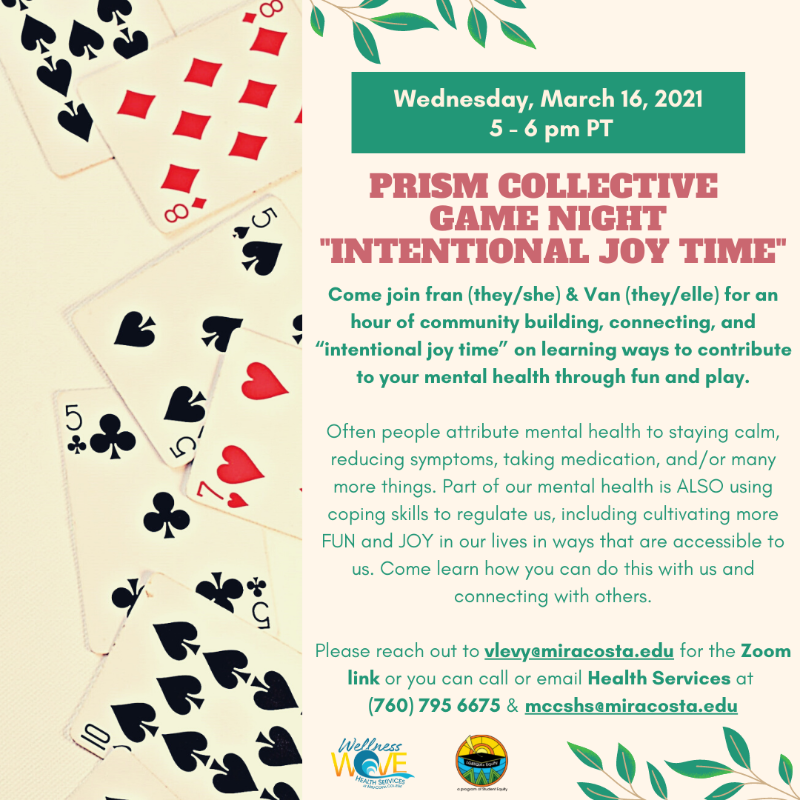 Wednesday, March 16th | 5 - 6 PST | Email Van Ethan Levy, vlevy@miracosta.edu for the link
Come join fran (they/she) & Van (they/elle) for an hour of community building, connecting, and "intentional joy time" on learning ways to contribute to your mental health through fun and play.
Often people attribute mental health to staying calm, reducing symptoms, taking medication, and/or many more things. Part of our mental health is ALSO using coping skills to regulate us, including cultivating more FUN and JOY in our lives in ways that are accessible to us. Come learn how you can do this with us and connecting with others.
Please reach out to vlevy@miracosta.edu for the Zoom link or you can call or email Health Services at (760) 795 6675 & mccshs@miracosta.edu
Zine Workshop with heather c. lou of voices for racial justice
Monday, March 29th | 3:00 - 4:00 pm PST
Learn how to make your zine together with a queer artist Heather C. Lou (she/her/hers) in an afternoon of creating cute queer vibes! All you need is a pair of scissors, one sheet of 8.5x11 paper with at least one blank side, writing utensils, and coloring tools.
Heather is joining our community virtually from Minnesota, where she serves as the Director of Training for the Voices for Racial Justice, a movement organization to committed to building power through collective cultural & healing strategies for racial justice across Minnesota using organizing, leadership training, community policy & research.
Heather is a multiracial, Asian, queer, cisgender, disabled, & survivor/surviving womxn of color artist and educator. Her art is a form of healing, transformation, and liberation, rooted in womxnism and gender equity through a racialized borderland lens.
Fire & Flood Film Screening with queer ecojustice Project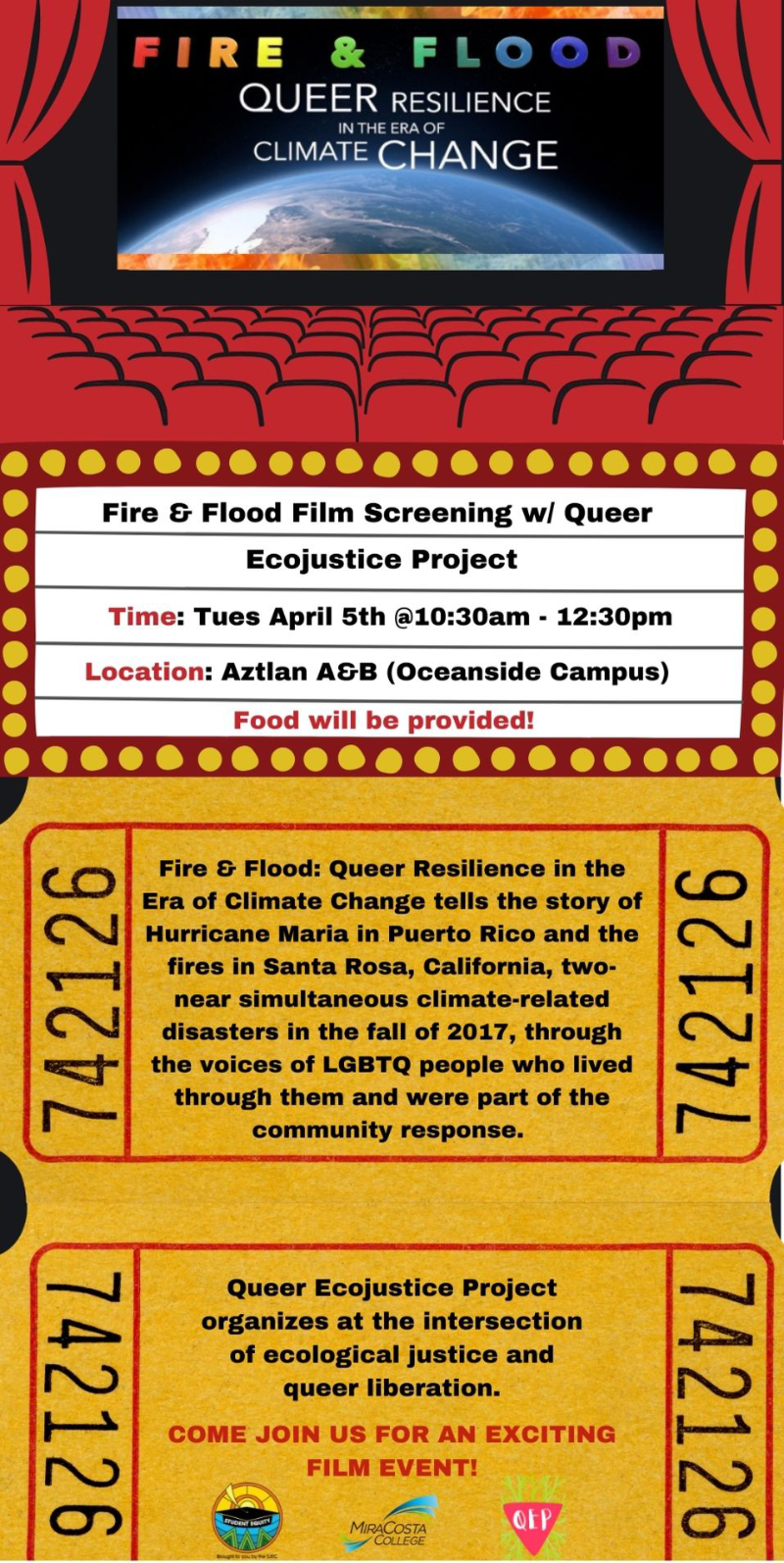 Tuesday, April 5th | 10:30am - 12:30 pm PST | Aztlan A&B (Oceanside)
Fire & Flood: Queer Resilience in the Era of Climate Change tells the story of Hurricane Maria in Puerto Rico and the fires in Santa Rosa, California, two-near simultaneous climate-related disasters in the fall of 2017, through the voices of LGBTQ people who lived through them and were part of the community response. The film explores the vulnerability of LGBTQ communities to climate disasters and also lifts up queer and trans strategies for resilience, transition, and survival. The film was created by Queer Ecojustice Project.
Queer Ecojustice Project organizes at the intersection of ecological justice and queer liberation. We are storytellers weaving together the threads of a complex, multidimensional story of queer survival and collective ecological futures through collaborative projects that aim to catalyze culture, consciousness, and community.
Participants will watch this film screening LIVE in Aztlan A/B (Oceanside campus) where the Director will be present from 10:30-10:40am for a pre-screening Q&A.
Queering / Debinarizing the Spanish Language
Thursday, April 14th | 4 - 5 pm PST
Unlearning, de-centering and languaging for inclusion. Let's talk about the ways in which Spanish is evolving and how the use of direct nonbinary Spanish (described as a change in progress by linguist Ártemis Lopez) is at the heart of identity construction and visibility for many in the Queer community. Join us in a discussion about cultivating brave spaces and equitable language praxis.
Françoise is an anti-bias educator and social justice activist currently living and working on unceded Lenape territory aka the city of Philadelphia. She is a proud Chilean immigrant who has spoken about the struggles, complexities and nuances of identity at The Race Institute and The Barnes Foundation. She has an M. Ed in Early Childhood and Elementary Education and she strongly believes that the fostering of sociocultural and critical consciousness skills should start at an early age. She has been teaching Español at Elementary level for the last 12 years. During her trajectory in the USA she has also facilitated ESL classes. She not only provided students with the necessary skills to survive the U.S schools system, but also helped immigrant families understand the benefits of preserving their heritage languages. She is a firm believer in decolonial praxis and equitable, gender inclusive, ABAR, World Language curriculums. For her languages have the potential to be windows to perspectives, and bridges of understanding. She is a speaker, a writer, a coach, a teacher of teachers, and a consultant. She engages and interacts with an international community of educators by sharing critical consciousness educational bits, best decolonial practices, and self-made resources through social media as "The Woke Spanish Teacher."
Lavender celebration
Friday, May 6th | 11:00 - 1:30 pm PST
Join us in honoring student graduates and those who have improved the campus climate for the LGBTQIA+ community with this annual celebratory event to end the academic year! We will honor the achievements of MCC graduates, recognize those who have completed the Pride Inclusion Training, give awards students and staff for their extraordinary services, and recap the 2021-2022 year. Everyone is welcome to join our celebration!
Graduating students of the credit and/or non-credit program, please submit a honoree form at tinyurl.com/studenthonoree2022.
If you'd like to nominate a MiraCosta student, staff, and/or faculty member for an award, please submit an award nomination form at tinyurl.com/awardnom2022.
Forms Deadline - May 3, 2022