Improve Your English. Improve Your Future.
Achieve your personal and professional goals with MiraCosta College's free English as a Second Language (ESL) program. Seven levels of ESL are offered during the morning, noon, and evening hours. The program also offers classes in citizenship, workplace ESL, conversation, computers and digital literacy, and reading and writing skills.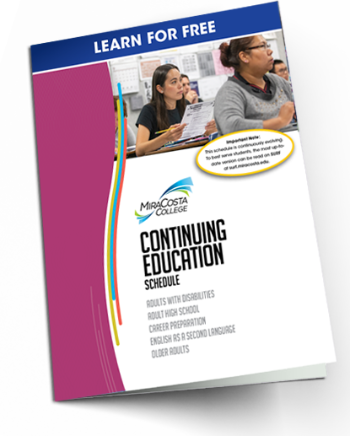 What Can I Expect?
Succeed in learning the English language or prepare to be a citizen with courses including:
General ESL
The ESL program offers seven levels of ESL instruction that cover listening, speaking, reading, and writing, along with vocabulary and grammar development. Short, 8-week terms of intensive English study allow students to move on to their next goal in education at a more rapid pace.
Conversation Skills
Beginning and intermediate classes provide a safe and secure environment for students to improve their listening and speaking skills. Classes start with basic word recognition and progress to more advanced conversation.
Reading & Writing Skills
Beginning and intermediate classes give students the opportunity to advance their reading and writing skills in a supportive and friendly environment. Students advance from producing simple sentences to being able to communicate their ideas in complete paragraphs.
Workplace ESL
Students improve their ability to listen, speak, read, and write about a variety of workplace-related topics. Some skills include interpreting informational texts, writing job-related documents like resumes, and responding to questions during interviews.
Citizenship
This 48-hour, open-entry class allows students to work at their own pace, while getting personalized instruction and completing individualized citizenship assignments. Computer access, instructional videos and packets are provided free. Learn More
Computers & Digital Literacy for ESL
Improve employability by advancing your basic computer skills. Students learn how to identify parts of a computer and create basic documents and presentations.
5 Reasons to Attend MCC's English as a Second Language Program
No Cost To You
Free classes, books and materials, support
services, food pantry, and more.
Flexible morning, noon, evening, in-person,
online, and hyflex classes.
You do not need to know any English
to take classes.
Classes are open to community members
regardless of education level and
immigration status.
Safe and supportive learning environment
with caring and passionate faculty and staff.
Become Part of a Community!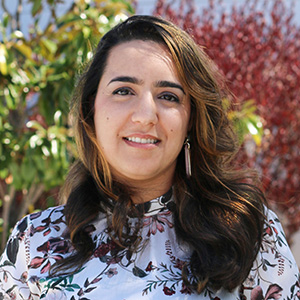 Frequently Asked Questions
Who can take free noncredit ESL classes?
Any resident of California can take these classes. The intensive English classes meet for eight weeks, three to four days per week (Monday, Tuesday, Wednesday, and Thursday), generally for three hours per day. There are other options as two days of open-enrollment classes, conversation, reading and writing, and computers. If you have a visitor's visa or international student visa, you should consult with the
International Office
How can I register for and enroll in noncredit ESL classes?
Apply to MirCosta College
Go to SURF

Create a SURF account. Please see page 6 for instructions. You will need to create a password in order to use SURF and access your classes online.

Complete Placement & Orientation

To get started, please call 760.795.8736 or email adulted@miracosta.edu to complete the placement process.
Go to miracosta.edu/nceslorientation to sign up for orientation. If you have questions about ESL orientation, please contact ncstudentsupport@miracosta.edu or call 760.757.2121 x8757.

Optional: Meet with a Counselor

Noncredit counselors provide guidance by creating an Education Plan, help students select classes to meet their goal, and direct students to resources for mental health and personal care. To chat with a counselor or make an appointment, email ncstudentsupport@miracosta.edu or visit miracosta.edu/clc.

Register for Classes Using SURF

Go to surf.miracosta.edu to register for classes online. For additional instructions on how to use SURF, go to miracosta.edu/tutorials. For assistance, call the Admissions & Records Office by email at noncredit@miracosta.edu or at 760.795.8710.
What happens if I have to change my schedule due to work or quit?
Always let the instructor know if you have problems with your schedule or you have to stop studying. We also try to help you change your class schedule when possible. The college offers conversation courses, reading and writing, computers, citizenship classes, and ESL Learning Lab classes.
How much are the noncredit ESL classes?
What is the difference between noncredit and credit ESL classes?
In noncredit ESL, there are seven levels of instruction. You do not have to know any English to begin studying. You will practice listening, speaking, reading, and writing in these free classes. You will not receive college credit, but you will take tests. After you complete the noncredit courses, you may want to advance your English to an even higher level or earn a college degree or certificate by taking credit ESL courses. You can learn more about the program by visiting the
credit ESL Web site
or contacting Mary Gross Dept. Chair, by emailing her at
mgross@miracosta.edu
or by calling her at (760) 757-2121, extension 6586.
I can't come to school four days per week. What can I do?
The noncredit ESL program has several ways you can study if you cannot take intensive 8-week courses, there are two-day, three-day, hyflex, Zoom, and conversation classes on Fridays and Saturdays. Or you can study independently with an ESL Learning Lab class, or take an off-site class.
I need more English for work and to prepare for a career. Which class is best for me?
It would help if you enrolled in the
Career-Track ESL(CT-ESL) class
.

MiraCosta College's noncredit Career-Track ESL courses will help you explore career options, prepare to get a job, improve your English skills for your current job, or prepare to study for a career.
Students may enroll in the course where they practice English to get a job, communicate in the workplace, work as part of a team, and complete important speaking, reading, and writing tasks and projects related to work.
Students can study modules to help them gain vocabulary and reading skills in one of these in-demand career fields:
Automotive Technology
Certified Nursing Assistant
Child Development
Computer Information Science
Customer Service
Entrepreneurship
Horticulture
Hospitality
Landscaping
Office Systems
Travel and Tourism
I want to become a United States citizen. Do you have classes for citizenship?
We have a citizenship course. Almost all students (more than 90%) who complete our course obtain their United States citizenship. See the
Citizenship information Web page
to learn more about the citizenship course and meet some of our graduates.
How do I move from one level to the next?
Teachers in the 8-wk English classes have identified
student learning outcomes
for every class. Your teacher will determine when your English abilities are at the appropriate level for you to be promoted to the next level of the noncredit ESL program. Teachers use information from test scores, attainment of student learning outcomes for the level, class assignments, attendance, and other identified criteria to decide if students are ready to be promoted to the next level. When you are promoted, you will receive a Certificate of Completion. Every eight weeks, 50% of our students are promoted.
What classes can I take after I finish all the ESL classes?
You are a student of MiraCosta College, and there are many opportunities for you at the Community Learning Center. You may enroll in Adult Basic Education (ABE) classes to learn to read better, Adult High School classes, classes to prepare for the GED or HiSET, or

College & Career Preparation

classes

. At the other MiraCosta College campuses (Barnard Drive, San Elijo), you can register for credit ESL, other academic courses, and career and technical courses (MCC Technology Center in Carlsbad). It is essential to see a counselor for advice on which classes are best for achieving your goals. We have counselors available at the CLC during daytime and evening hours.
What if I need help outside of class?
At the Community Learning Center, we have the Learning Commons. There are tutors who can help you with any classwork and practice your English more. There is also a librarian in the Learning Commons who can help you learn to search for information and help you find materials. Additionally, we have open computer lab hours so that you can check your email, get information, and type assignments.
Additional Resources
ESL Program Mission Statement
About the Continuing Education Division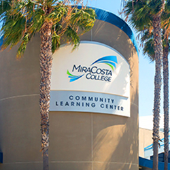 Community Learning Center
1831 Mission Avenue
Oceanside, CA 92058
View Map
760.795.8710 | 888.201.8480

Admissions & Records Office
760.795.8710
noncredit@miracosta.edu
Adult Education Office
760.795.8736
adulted@miracosta.edu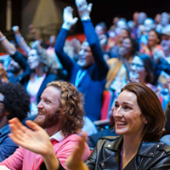 Continuing Education Events
MiraCosta College's Continuing Education Division offers student events throughout the year that celebrate culture, diversity, and community.
Meet the MiraCosta Team
Our administrators, faculty, and student support specialists are dedicated to your success. We invite you to connect with us!