If You Believe. You Can Achieve.
MiraCosta College's Adult High School Diploma Program gives adults the education they need to improve their employment options and pursue their college education in a supportive and accessible learning environment that respects and honors diversity. Students can choose to obtain their high school diploma or take classes in preparation for the GED exam.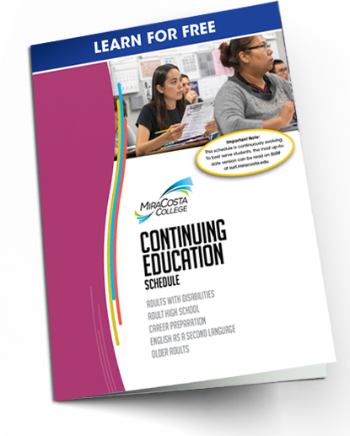 What Can I Expect?
The High School Equivalency Exam Preparation (HSE) course is designed for learners seeking their high school equivalency / GED (General Education Degree). Learn more.
The Adult High School Diploma Program is the only college-based high school program in Coastal North San Diego County!
Flexible in-person and online classes.
Free tutoring and support services.
A supportive pathway to college and more.
5 Reasons to Join MiraCosta College's Adult High School
No Cost To You
Free classes, books and materials, support
services, food pantry, and more.
It's possible to earn a high school diploma in
months instead of years!
Learn on your own schedule
Choose one or more classes. YOU set your pace.
Classes are open to community members
regardless of education level and
immigration status.
Safe and supportive learning environment
with caring and passionate faculty and staff.
Become Part of a Community!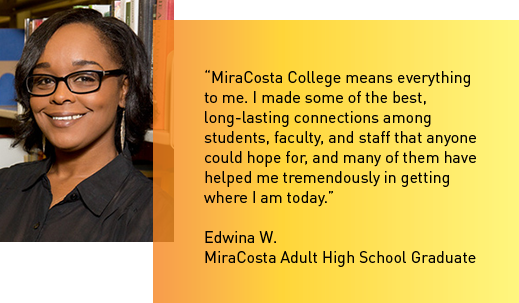 Frequently Asked Questions
How much do Adult High School Diploma Program courses cost?
All courses are offered tuition-free.
How long will it take to earn the Adult High School Diploma?
The length of the program depends upon the number of credits completed prior to starting the program, and the number of courses completed each term. It is recommended that you see a counselor to develop an education plan.
How many courses do I need to enroll in each term?
Students may choose to take one or more courses during any term; however, they are encouraged to balance their course schedules with work, family, and other commitments.
I have the required 160 credits. Am I eligible to graduate?
Are independent study courses available?
No. All courses have attendance requirements.
Do MiraCosta College courses satisfy AHSDP requirements?
Are there accommodations available for students with disabilities?
If you have a verified disability, you may qualify for accommodations through Student Accessibility Services (SAS). Please call, email, or visit the SAS website for more information.
760.795.6658
sas@miracosta.edu
miracosta.edu/sas
Additional Resources
About the Continuing Education Division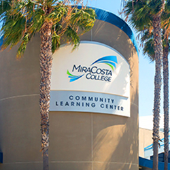 Community Learning Center
1831 Mission Avenue
Oceanside, CA 92058
View Map
760.795.8710 | 888.201.8480

Admissions & Records Office
760.795.8710
noncredit@miracosta.edu
Adult Education Office
760.795.8736
adulted@miracosta.edu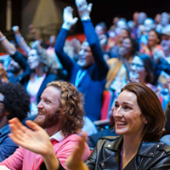 Continuing Education Events
MiraCosta College's Continuing Education Division offers student events throughout the year that celebrate culture, diversity, and community.
Meet the MiraCosta Team
Our administrators, faculty, and student support specialists are dedicated to your success. We invite you to connect with us!