Protea Garden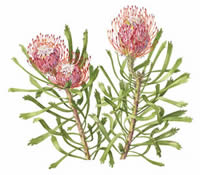 During the 2015 Spring Semester a new Protea Garden was designed and planted in the MiraCosta Horticulture Department. Two Protea Garden interns helped to bring the garden into fruition, Ben Gill and Brandon Clakson. The California Protea Association http://californiaprotea.org/ has been instrumental in providing support and donations that have made this new public Protea display garden possible.
Thank you to the Protea Association and all of the help provided by our interns, volunteers, and staff!
Protea Garden Project, by Ben Gill:
The goal of this project is to plan, develop and plant a Demonstration Garden at the Horticultural area of the Oceanside campus. We envision the planting of a general representation of the Proteaceae family of perennial flowers used in landscape and commercial cut flower production. To read more, click the link: Protea Garden Project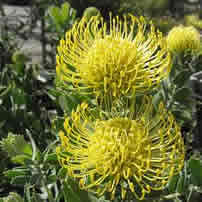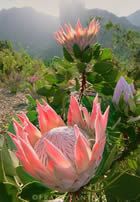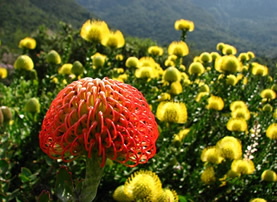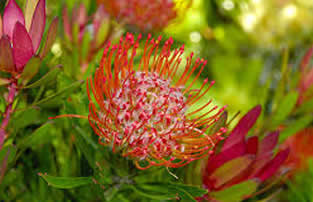 The family Proteaceae is an ancient family of plants. It was one of the earliest groups of flowering plants and was able to disperse and diversify throughout Gondwana before the supercontinent disintegrated. With about 1600 species, it is one of the plant groups which now dominate the southern hemisphere floras. Proteaceae are best represented in South Africa and south western coastal areas of Australia. These beautiful flowers were first grown in the United States in San Diego north county. Protea are well adapted to our Mediterranean
climate and require very little water or care. This garden was designed and installed by Horticulture Interns, Ben Gill and Brandon Clarkson with the support from the California Protea Association.
MiraCosta Protea Garden details and more information about growing Proteas can be found here: Protea Garden
More details and pictures of the garden coming soon!
Horticultural Websites in San Diego County
Associations & Organizations
Clubs & Societies
Public Gardens
Retail Nurseries
For more information or questions about the Horticulture Department's plant collections, gardens, greenhouses, plant sales nursery, facilities, and department's policies, please inquire with our Horticulture Instructional Associate:
Carolyn Kinnon
Office: Oceanside Campus, Horticulture Department, Building 7000, Parking Lot-7A, MS#19
760.757.2121 x6533