MiraCosta College works to make sure all students feel welcomed and have the tools they need to succeed, regardless of immigration status. UPRISE strives to make sure undocumented, DACAmented, and mix-status students at MiraCosta College feel safe and supported by providing access to immigration legal services, offering academic and mental health counseling, and connecting students to financial and academic resources.

MiraCosta College will not release any personally identifiable student information, including any data related to immigration status, without a judicial warrant, subpoena or court order, unless authorized by the student or required by law.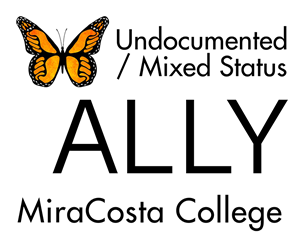 Goals
Establish a university-wide network of easily visible allies that can provide support, information, and assistance to undocumented students.
Provide undocumented students comfortable access to trustworthy, knowledgeable, and sensitive people who can provide a safe and nondiscriminatory environment.
Educate members of the educational community on the needs and concerns of AB 540 and other undocumented students.
Register for UndocuAlly Training
MiraCosta staff and faculty are welcome to participate in a training that we offer throughout the academic year. The UndocuAlly Training is open to 30 classified professionals and faculty, and is flex eligible. As MiraCosta faculty/staff, your position at MiraCosta allows you to directly help a variety of students, enhance our institutional support to a marginalized student population and create a legacy of educational access for this vulnerable student group.
In order to register and receive the most updated dates to trainings please use the button below.
For more information on UPRISE services and program, call 760.757.2121 x6203 or contact:
Brayan Astorga - he/him/his
UPRISE Student Services Specialist
bastorga@miracosta.edu
Make an Appointment With Me
Undocumented People Rise in Solidarity and Empowerment (UPRISE) is a service of the Department of Student Equity. For general inquiries about all Student Equity programs and services, please contact us at studentequity@miracosta.edu or call our main office at 760.757.2121 x6900.