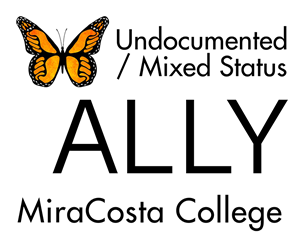 Goals
Establish a university-wide network of easily visible allies that can provide support, information, and assistance to undocumented students.
Provide undocumented students comfortable access to trustworthy, knowledgeable, and sensitive people who can provide a safe and nondiscriminatory environment.
Educate members of the educational community on the needs and concerns of AB 540 and other undocumented students.
Become an Ally
MiraCosta staff and faculty are welcome to participate in the trainings that we offer throughout the academic year. The UndocuAlly Training is open to 30 classified professionals and faculty, and is flex eligible. As MiraCosta Faculty/staff, your position at MiraCosta allows you to directly help a variety of students, enhance our institutional support to a marginalized student population and create a legacy of educational access for this vulnerable student group.
In order to register and receive the most updated dates to trainings please use the button below.
Trained Allys
Administration & Board of Trustees
Dr. Sunny Cooke, Superintendent/President
Freddy Ramirez, Dean, Admissions & Student Support
Al Taccone, Dean, Career and Technical Education
Alketa Wojick, Vice President of Student Services
Administrative Assistants
Chelsea Chavira-Verdin, Admin. Assistant to the Dean-Counseling
Admissions & Records
Justino Hernandez, A&R Assistant
Manuel Acero, Admissions & Records Specialist-CLC
Yurico Jimenez, Admissions & Records Specialist, Community Learning Center (CLC)
Jane Sparks, Director of Admissions & Records/Registrar
Griselda Cardenas, Admissions & Records Specialist-CLC
Erika Brown, Admissions & Records Specialist-CLC
Adult Education
Hayley White, Support Assistant
Maria Bucio, Administrative Support Assistant II
Beatriz Aguilar, Noncredit and Adult Education Program
Krista Warren, Associate Faculty -Noncredit Continuing Ed
Adult High School
Tony Hickman, Associate Faculty-Adult High School
Julie Cord, AHSDP Instructor-Social Science
Nora Escobedo, Instructional Aide, Noncredit Adult High School
Art
Biology
Himgauri Kulkarni, Faculty
Pedro Morgado, Faculty
Business
Christina Sharp, Faculty
Nate Scharff, Faculty
Career Studies & Services
Cole Bezzant, Specialist-Adult Education, Community Learning Center (CLC)
Donna Davis, Faculty Director
Viviana Rodriguez,Student Employment Coordinator
Robbi Rosen, Career Counselor
Mike Green, Internship Coordinator
Chemistry
Kristine Arquero, Faculty
Computer Science
Nery Chapeton-Lamas, Faculty
Michael Paulding, Faculty
Computer Studies and Information Technology
Andre Andersen, Associate Faculty
Counseling
Karina Duarte-Braunstein, Counselor, Student Success and Support Program
Ariana Solis, Counselor
Michelle Farnam, Counselor, Disabled Students Program and Services (SAS)
Hilda Gomez-Zinn, Counselor
Laura Hayek, Counselor, Student Success and Support Program
Elizabeth (Liz) Leguizamo, Interim Admin. Support Assistant III, Counseling
Josilyn Perez, Associate Faculty
Oswaldo Ramirez, Counselor, Noncredit Programs, Community Learning Center (CLC)
Cynthia Vasquez Gonzales, Counselor, Noncredit Programs, Community Learning Center (CLC)
Afifa Zaman, Counselor, Student Success and Support Program
Magdalena C. Zepeda, Counselor
Sasha Verastegui, Associate Faculty, Counseling
Daniela McIntosh, Associate Faculty, Counseling
English
Maria Figueroa, Faculty
Teresa Guinon, Faculty
Jade Hidle, Faculty
John Kirwan, Faculty
Luke Lambert, Faculty-Reading
Tyrone Nagai, Faculty
Violeta Sanchez, Faculty
Angela Senigaglia, Noncredit Faculty, Community Learning Center (CLC)
Chad Tsuyuki, Faculty
Michael Zimmerman, Associate Faculty
English as a Second Language (ESL)
Melissa Lloyd-Jones, Faculty
Lindsey Morse, Instructional Aide
Del Zimmerman, Associate Faculty
Christian Vela-Che, Faculty
Engrid Bairstow, Associate Faculty
Debra Poortenga, Associate Faculty
Ruth Gay, Instructor
Carolyn MacLean, Associate Faculty
Angela Senigaglia, Faculty
Carla Stoner, Associate Faculty
Julie Graboi, Associate Faculty
Mariana Silva, Faculty
Mary Cory, Associate Faculty
EOPS
Yesenia Balcazar, Faculty Director
Candy Owens, EOPS Counselor
Larry Burns, EOPS Counselor
Financial Aid
Alison Cotter, Student Services Coordinator
Mike Dear, Financial Aid Director
Robyjean Bishop, Interim Financial Aid Assistant
Health Services
Berenice Badillo, UPRISE Mental Health Counselor
History
Eduardo Aguilar, Associate Faculty
Lesley Doig, Faculty
Hospitality
Lisa Jenkins Orr, Associate Faculty
Library
Richard Ma, CLC Outreach, Media Acquisitions & Displays Librarian
Sara Cassetti, Library Technician III, Public Services
Steven Deineh, Librarian, Instruction & Student Engagement
Robin Kilrain, Library Technician I, Public Services
Stephanie Miko, Library Technician II, Public Services
Glorian Sipman, Technical Services and Collection Development Librarian
Mathematics
Angela Beltran, Faculty
Rachid Atmai, Faculty
Momoyo "Momo" Dahle, Math Learning Coach-MLC
Polo Mariscal, Faculty
Lemee Nakamura, Faculty
School Relations & Diversity Outreach
Jonathan Gómez, Program Manager
Maria-Isabel Rocha-Duarte, Interim Student Services Specialist-School Relations & Diversity Outreach
Supplemental Instruction
Jessica Perez-Corona, Supplemental Instruction Coordinator
Service Learning
Bea Palmer, Program Manager
Analia Zamora, Administrative Support Assistant II
Sociology
Alicia Lopez, Faculty
Sean Davis, Faculty
Bruce Hoskins, Faculty
Michael Arce, Associate Faculty
Spanish
Rosa Viramontes, Faculty
Laura Gomez-Carlsson, Associate Faculty
Student Affairs
Nick Mortaloni, Dean, Student Affairs
Student Equity
Kristina Londy, Program Manager Student Success & Equity
Cindy Oropeza Arce, UPRISE Student Services Specialist
Jodi Mulhall, Student Services Coordinator
India Pierce, Student Services Specialist (LGBTQIA+/Equity)
Student Life and Leadership
Chelsea Kott, Director, Student Services-San Elijo Campus
Sarah Carpenter, Interim Student Services Specialist
Student Services
Mitra De Souza, Student Services Director, CLC
Student Success and Support Program
Vanessa Bustamante, Interim Program Manager-Student Success & Support
Amber Rivas, Interim Student Services Coordinator-FYF
Rodrigo Gonzalez, Student Services Specialist, Community Learning Center
Casandra Castano, Campus Aide III, Community Learning Center
Sugeily Cervantes, Interim Student Services Specialist-Student Success & Support
Testing Services
Pamela LeBlanc, Testing Services Specialist
Sinclaire Tirona, Testing Services Coordinator
Cristina Zafra Lopez, Campus Aide III
Transfer Center
Tutoring & Academic Support Center
Jon Fuzell, Noncredit Tutoring Coordinator
Edward Pohlert, Faculty Director
Veterans Services
Amber Ansari, Administrative Support Assistant III
Writing Center
Denise Stephenson, Faculty Director
Sarah Pultz, Writing Coach
Jeff Schoneman, Writing Coach
For more information on UPRISE services and program, call 760.757.2121 x6203 or contact:
Brayan Astorga
he/him/his
UPRISE Student Services Specialist
bastorga@miracosta.edu
MiraCosta College works to make sure all students feel welcomed and have the tools they need to succeed, regardless of immigration status. UPRISE strives to make sure undocumented, DACAmented, and mix-status students at MiraCosta College feel safe and supported by providing access to immigration legal services, offering academic and mental health counseling, and connecting students to financial and academic resources.
MiraCosta College will not release any personally identifiable student information, including any data related to immigration status, without a judicial warrant, subpoena or court order, unless authorized by the student or required by law.
Undocumented People Rise in Solidarity and Empowerment (UPRISE) is a service of the Department of Student Equity. For general inquiries about all Student Equity programs and services, please contact us at studentequity@miracosta.edu or call our main office at 760.757.2121 x6900.